The CSS currently meets on the first Thursday of each month (except January) at 7:00 PM.
Meetings are a good time to discuss and coordinate upcoming caving trips and suggest or offer to lead new trips. Each meeting includes a formal agenda which covers verbal trip reports, correspondence, financial reports and topical news. There are usually some photos shown from recent adventures, and at least one longer presentation either by a club member or an invited guest. These presentations may cover past caving trips, current project work done or anything else cave related.
See the
calendar
page for more details relating to upcoming meetings.
Location
As of June 2018 General Meetings are NO LONGER held in Seminar Room A in the Coombs Building, Australian National University, Canberra.

We are now meeting at Merici college - the current arrangement (@ June 2018) is that we will convene under the shelter beside the Merici college carpark off Limestone Ave and then go to the meeting room from there. The shelter is circled red on the map below. If this is your first meeting then perhaps send us an email (see contacts page) to let us know you are coming and we will look out for you.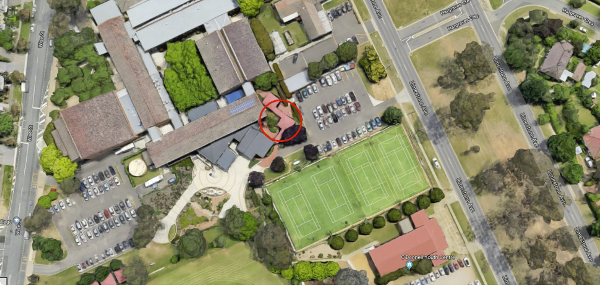 General Meeting Program
Aprox 6:00 PM - Those interested meet at a pre-arranged location for a pre-meeting drink or meal.
7:00 PM - General meeting starts covering Correspondence, General Business, Past Trip Reports, Future Trips etc.
8:00 PM - Break for Tea/Coffee.
8:15 PM - Presentation of the meeting feature.
Commitee Meetings
The CSS committee generally meets on the last Thursday of the month at 6:00 PM

Any CSS member is welcome to visit the committee meeting.